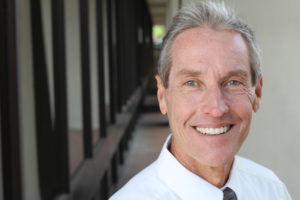 The idea of visiting an implant super center in Beverly Hills sounds convenient for a patient, but it's often not the best approach for receiving a successful dental implant procedure. In many cases, implant centers are not staffed by experienced oral surgeons or periodontists, but by unqualified dentists. This can lead to less successful procedures, causing fit problems or complete failure of the implants. Instead, a patient should consider the team approach, which is both more successful and safer.
Why Dental Implant Centers In Beverly Hills Should Be Avoided
Many patients want a fast and easy solution to their missing teeth, but the truth is that it's generally not a good idea to perform dental implant surgery quickly. Here's why:
Many centers perform the entire procedure under one roof in just one day—a concept known as the All-on-4® Treatment Concept.
This treatment is not customized or personalized. Rather, the surgeon places four dental implants in strategic spots along the jaw to support either a full upper or lower plastic denture.
All remaining teeth are removed, regardless of whether they can be saved.
Most implant centers are business-driven rather than patient-driven, frequently created by a large group of dentists to attract more patients in Beverly Hills.
Super centers lack appropriate follow-up care and coordination with the patient's family dentist, so potential post-surgery problems sometimes go unnoticed.
While this method might work for some people, it is certainly not a one-size-fits-all approach, especially if the patient requires bone grafting. However, because it's the only treatment option available at these centers, a patient who goes there might not get the care and personalized plan they require.
Why the Traditional Team Approach to Dental Implants in Beverly Hills Is Better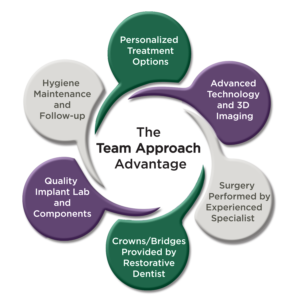 The traditional team approach offers far more advantages than the quick, one-and-done atmosphere of a super center. Although the treatment plan might not be as convenient, results are far more impressive. Here's why:
Both a trained dental surgeon and a restorative dentist participate in treatment—a collaboration that results in a better aesthetic appearance.
Each can focus on their area of specialization without trying to undertake the whole procedure themselves.
The team approach results in a personalized treatment plan for each patient.
In many cases, it involves saving existing teeth or using bone grafting to ensure implant success.
Surgical specialists also coordinate with the patient's dentist to learn more about the patient's overall dental health.
The team approach provides highly skilled follow-up and maintenance sessions to ensure the patient's implants heal correctly.
This holistic approach is much more personalized and quality-driven, when compared with dental implant treatments at super centers in Beverly Hills.
Get Started Today
If you have any questions at all about dental implants in Beverly Hills, call our office today at (310) 657-0999. Our team is ready to serve you.