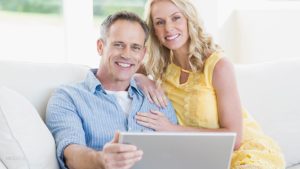 Selecting the right Periodontist can seem challenging if you don't know what to look for. Patients in Century City and the surrounding areas should ask three key questions before scheduling a consultation with a local Periodontist:
How do they diagnose patients?
Do they actively seek continuing education opportunities?
Have they updated their technology to reflect the latest advancements in treatment?
The answers to these questions will influence the quality of your diagnosis and treatment, as well as the time it takes for you to recover.
How Does the Periodontist Diagnose Patients?
The foundation of any dental specialty practice begins with the quality of their diagnostic tools. It is now possible to see minute details that were once impossible to see with the assistance of digital imaging. However, without 3D imaging only the height and width of your bone will be revealed.
In just ten seconds, Dr. Anson can obtain a three-dimensional view of the teeth, bones, and neck from several different angles. These measurements are critical to determine the:
Exact angle and depth needed to place dental implants.
Ability of your jawbone to support dental implants.
Whether or not bone grafting is required.
Without advanced diagnostic tools such as 3D imaging, the severity of your condition may be misdiagnosed and lead to unnecessary treatment. In fact, Dr. Anson recommends that patients seek a second opinion with a surgical specialist before agreeing to bone grafting procedures to avoid expensive treatment that serves no purpose.
Does the Periodontist Seek Continuing Education Opportunities?
Some Century City practices continue to promote the same treatments they did several years ago rather than diversifying their treatment options. Other practices adopt a one-size-fits-all treatment method by touting certain procedures that have created a buzz. These approaches are at opposite ends of the bad practices spectrum.
At our practice, Dr. Anson has performed clinical trials and in-depth research to establish the best practices for different patients. Because each case is unique, treatment is modified and adapted to your situation rather than remaining behind the time or adopting the latest technology before it has been thoroughly researched.
Has the Periodontist Updated Their Technology to Reflect the Latest Advancements in Treatment?
While an experienced Periodontist should research different methods to improve patient comfort, he or she should not readily adopt new techniques solely due to their popularity. Dr. Anson balances these approaches by adopting the latest periodontal techniques without relying on one procedure to solve every condition. Instead, Dr. Anson relies on:
Advanced diagnostic tools to evaluate each patient.
A variety of microsurgical techniques suited to specific conditions.
Gentle Piezo surgery to reduce damage to surrounding teeth.
By continuously training in procedures that advance, patient comfort and treatment outcomes, Dr. Anson consistently provides high-quality dental care to Century City patients.
To schedule your consultation with Dr. Anson, contact our Beverly Hills office at (310) 657-0999.