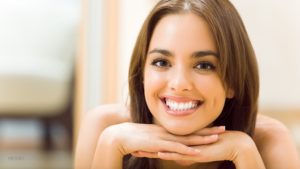 A missing tooth can change your smile and shift the alignment of your teeth causing difficulty eating and speaking. Without a replacement tooth, Beverly Hills patients may even experience bone loss that causes premature aging. While there are different solutions to replace missing teeth, dental implants provide the closest match to the structure, and function, of your natural teeth by using the same anatomical principles to rebuild your smile.
What Makes Dental Implants Different than Other Treatment Options?
Although there are different options to replace your missing tooth, dental implants have rapidly grown in popularity, and with good reason. A dental implant has several advantages when compared to traditional tooth restoration such as a bridge or partial denture.
Designed to last a lifetime:

 Dental implants form a biological bond with your bone, creating a stable foundation for a new crown and preserving the integrity of your jaw.

Preserves adjacent teeth:

 A partial denture or bridge can affect surrounding teeth because it relies on them to support the crown that replaces your natural tooth. Dental implants support crowns rather than cutting down adjacent teeth or hooking a prosthesis onto them.

Care for like natural teeth

: A single dental implant can be treated like a natural tooth – brushing and flossing twice daily, and seeing your dentist for twice-yearly checkups and cleanings.

Replaces root and tooth

: Bone loss is a serious problem for Beverly Hills patients who are missing one or more teeth. Without the root, the. bone melts away. Patients who experience more significant bone loss will require a bone graft to restore the natural jawline or prepare for dental implants at a later date.

High rates of success

: The long-term success rates with dental implants are well over 95% and are significantly better than other methods of tooth replacement. Dental implant restorations do not need to be replaced every 5 to 10 years like partials and bridges.
Dr. Anson recommends dental implants for Beverly Hills patients who want a long-term solution for tooth replacement that restores a natural-looking smile. His approach reduces discomfort by employing innovative surgical techniques that he has developed, as well as advanced technology.
Atraumatic Placement of Dental Implants
Dr. Anson has amassed over twenty-five years of experience placing dental implants for patients throughout Beverly Hills and the surrounding areas. Dr. Anson has adopted leading-edge techniques on the market after spending the time to research their benefits. This has enabled him to:
• Deliver local anesthesia with a device that does not cause the pressure and soreness normally associated with this injection.
• Use ultrasonic Piezo surgical instruments for bone grafting that heals rapidly and does not damage surrounding tissue.
• View more detail by using a high-powered microscope during his procedures.
During his time as a practicing Periodontist, Dr. Anson has evaluated every possible option to improve patient comfort and ensure dental implant success.
To schedule your dental implant consultation, contact our Beverly Hills office at (310) 657-0999.