What is involved with dental implant procedures?
Evaluation. The first step for patients is an examination and consultation with their dentist to determine whether or not they are a candidate for implant treatment. This usually involves x-rays and may include taking impressions for models of their teeth. If patients have already lost a significant amount of bone, additional x-rays taken at another facility that specializes in this type of x-ray may also be recommended.
Following the initial consultation, their dentist will then refer patients to Dr. Anson for an implant consultation and evaluation appointment. At this appointment Dr. Anson will evaluate bone and dental structures to determine the best possible treatment to restore function as well as achieve a beautiful esthetic result. He will discuss his findings with patients, a treatment plan and the fees will be discussed as well. Before we begin treatment, Dr. Anson will consult with your dentist to provide the best possible team approach in restoring a beautiful smile.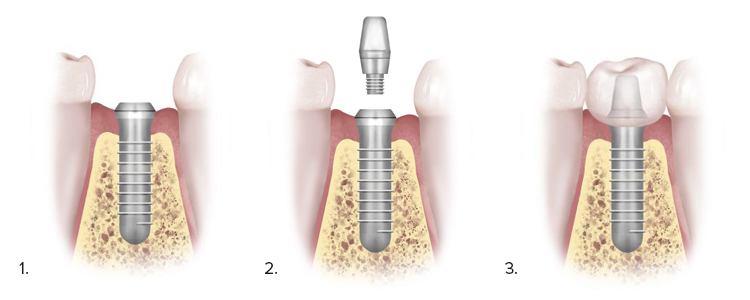 1. Implant Placement Procedure. The implants are placed in the bone using a gentle surgical technique. With the type of implant used by Dr. Anson for most cases, it will not be necessary to place the implant completely under the gum tissue, which eliminates a second surgical procedure.
Following the implant placement procedure, the implants are left undisturbed for a period of several weeks so that the bone can grow around the implants to form a strong biological bond to them. During this phase, Beverly Hills patients may have some type of temporary replacement teeth, so that you never have to be without teeth during treatment.
2. Abutment Attachment Procedure. When the implant is ready to be restored by a dentist, a small connector post called an abutment is attached to each implant. The new replacement teeth will eventually be attached to the abutments.
3. Fabrication of Replacement Teeth. A series of appointments with a dentist will be needed to take impressions of patient's teeth and the implant abutments; place temporary replacement teeth; select the appropriate shade for replacement teeth and try them for proper fit. In between these appointments, the laboratory technician will fabricate replacement teeth and the underlying structures that will be attached to the implants.
Surgical Tooth Removal
Tooth loss can be a traumatic experience. Fortunately, if Beverly Hills patients do lose a tooth it can be replaced with an implant supported replacement tooth that will look, feel and function like a natural tooth.
If you are facing impending tooth loss, Dr. Anson is able to surgically remove the tooth using a special technique that minimizes discomfort and promotes rapid healing.  This technique also preserves the bone surrounding the tooth, which is important for implant placement.
Missing teeth? If you want to experience the confidence of a beautiful smile, call our office in Beverly Hills at (310) 657-0999 and learn how Dr. Anson can give you a new and beautiful smile.